Daily deals mobile app development
We focus on user needs and your convenience in linking online stores to the app.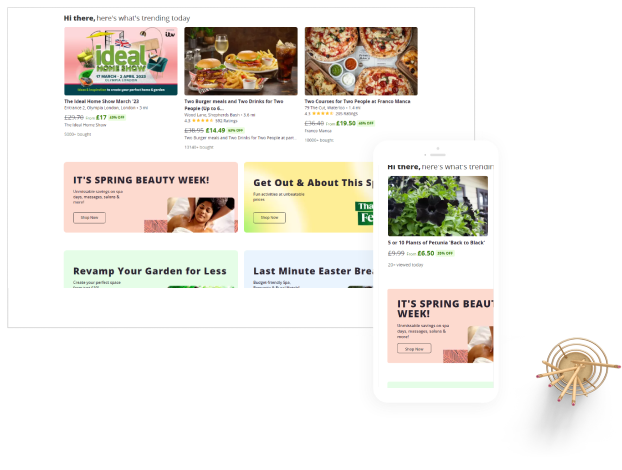 Why should you
choose our app ?
SEO optimized
Mailchimp newsletter integration
Highly customizable platform
Easy login functionality
All-device responsive
Make a coupon website for
online shoppers
Do you know that online customers always look for special deals and discounts to save money? They search for the best available price for their chosen products. Surely, they look for these deals using their mobiles. To help your customers grab the best offers, you can launch a daily deal app. At Orbit Edge Tech, we are a team of application developers providing you with daily deal app development Solutions. From our customized apps and websites, online customers can easily browse through the coupons and promo codes to make a cost-effective deal. Your coupon website will make online shopping more delightful to customers.
Our daily deals mobile app development company focuses on two major components to create any platform-
Deal Manager- From this section, the app manager can add new deals and edit them with a few clicks. We help you in categorizing your deals, like daily deals and instant deals. What's more, you can find redemption slots and deal options. Front-end app users may sort out those deals by location, and type, and other factors. Merchant Management For every business, our app includes an order management and franchise management dashboard. Businesses may check out deals, view their payment reports, and initiate a shipment.
Never worry when you do not know how to develop a daily deals mobile app. We have the best developers to work with you.
Distinctive features of our
daily deals app
We design the best coupon website
Have you collaborated with businesses offering special deals ? Then, hire us to create a coupon app and let shoppers get free access to your platform. Users can search for deals, save them, and organize them using your portal.
Get a feature-rich daily deal app
Coupon websites list the valid promo codes and discount codes that customers can apply while placing a deal on eCommerce platforms. At Orbit Edge Tech, we have identified the needs of customers in the present market. That is why we create a coupon platform with lots of features. Our online coupon app development for Android and iOS will help businesses to increase their revenues.
For daily deal app development solutions, we add the best features for the convenience of users Categories- Users may easily locate the latest product deals from the clearly listed in-app categories.A dedicated news section- The app can automatically notify potential buyers about the available deals of different products and services. Loyalty program- Customers, who are eligible for loyalty programs and referral programs, will get special offers.
Multilingual- We create advanced websites where you can translate the information of your deals in multiple languages by clicking a button.
Gift cards- You can promote your gift card using our mobile-friendly app.
Behavior tracking- Our apps can track the way users are searching for coupons and choosing deals.